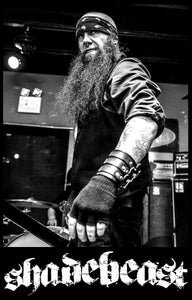 BENEFIT Sticker #90 Jim Forrester, 6-pack
Proceeds from this sticker go to the Sweet Relief Musicians Fund.
https://www.sweetrelief.org
Foghound/Serpents of Secrecy bassist Rev. Jim Forrester was killed in a shooting outside of the tattoo shop where he worked in Baltimore in 2017. Prior to Foghound and Serpents of Secrecy, Forrester played bass in Sixty Watt Shaman. He was well-known in the Baltimore music scene and is sorely missed.